Be Proactive With Preventative Roof Repair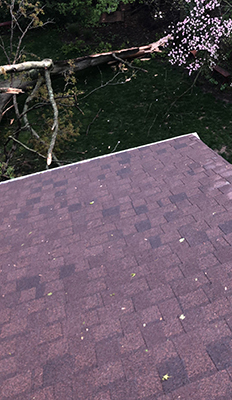 Your roof may not always be the foremost thing on your mind. However, it is a vital component of your home's structure and requires attention throughout the year. Over time, ignoring minor issues can lead to expensive foundation damage or a costly premature roof replacement.
Get ahead of your roofing issues. CastleStone Homes provides experienced residential roof repair services by contractors who are trained to identify and fix problems before they grow into larger concerns.
Signs Your Roof Needs Attention
Severe weather conditions and natural wear and tear take a toll on your home's exterior components. CastleStone Homes recommends keeping your roof in peak condition throughout the year with a preventative maintenance program. However, if you notice any of the following issues with your roof, call our experts for immediate repair assistance. These signs include:
Missing, loose or cracked shingles
Large amounts of asphalt shingle granules in the gutters
Gutters that are clogged, sagging or falling off
Excessive mold or moss growth on shingles
Discoloration or rust on roofing panels
Loose flashing in valleys or around chimneys, skylights & vents
Stains or dampness on the underside of roof decking
Water stains in your attic or on upstairs ceilings
Why Choose CastleStone Homes?
We offer professional and competitive rates that are fair and affordable.
We're GAF Certified roofers and offer exclusive protection and warranties.
We provide free estimates that are accurate and honest, with no obligation.
We're respectful of your time, budget and property.
Schedule Your Free Roof Repair Estimate
CastleStone Homes is ready to inspect your roof and restore it to full performance. We'll help you get ahead of any problem before it becomes a larger issue. Give us a call at (410) 774-9002 or fill out our online form to schedule your free inspection and estimate.